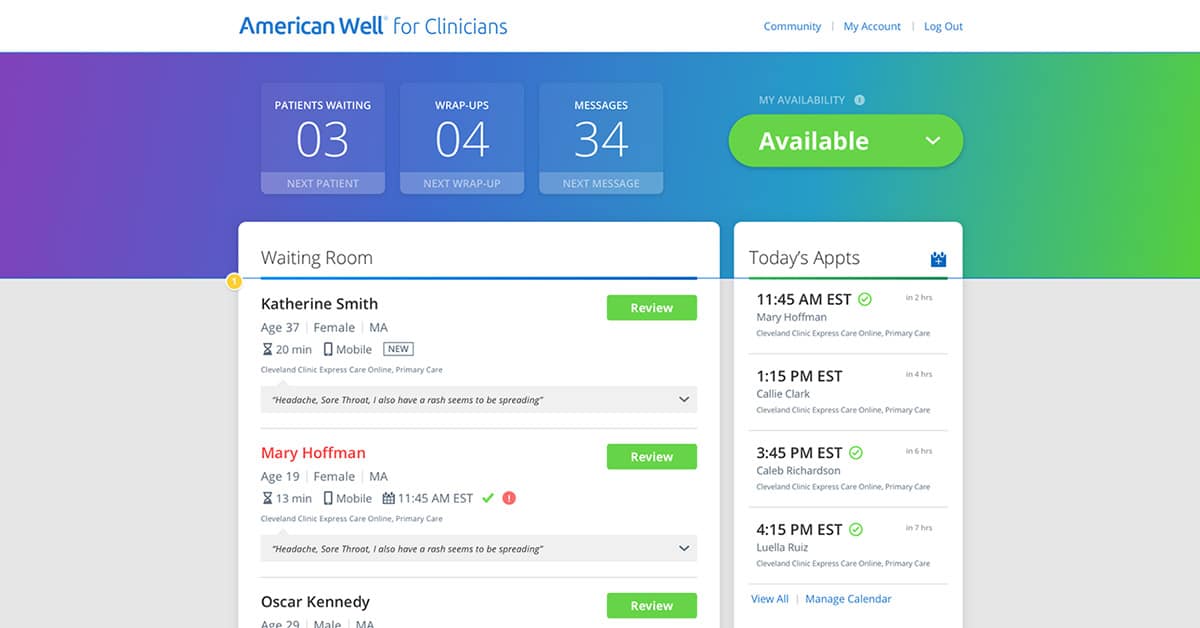 Enhancements also bring best-in-class clinical modules for delivering acute care
BOSTON – May 1, 2018 – American Well, the leading telehealth provider in the U.S., today launched AW11, a new telehealth experience for providers offering video visits to their patients.
The company is making it even easier for providers to deliver care virtually by enhancing the on-platform experience through a newly redesigned provider interface, expanded product features for system-wide telemedicine offerings in the hospital setting and the ability to deliver telehealth directly from within an EMR.
"Telehealth is expanding rapidly by way of consumer adoption. As a result, there's a heightened sense of urgency to tighten the integration into provider workflows, as the two are so deeply intertwined," said Roy Schoenberg, MD, MPH, CEO at American Well. "As telehealth transitions from an urgent care consumer app to an ecosystem where clinical services are distributed digitally, deep assimilation into the provider day-to-day reality, supporting systems and practicing lifestyle becomes pivotal for adoption and growth. In a nutshell – this is what AW11 is all about."
New and enhanced provider app features will include:
EMR direct embed option to bring American Well's comprehensive telehealth visits directly into an EMR workflow, allowing providers to continue documenting without having to open a separate app.
Improved workflow efficiency with a redesigned provider interface and more intuitive experience; beautiful new in-app visuals; automated enrollment to get providers up and running on platform quickly.
Expanded geographic reach through a new "global home" feature that gives providers a seamless way to see patients from across practices on American Well's platform and exchange services system to system. Providers can start by using telehealth with their own patients, and later choose to expand their practice to serve consumers across the country.
"Feedback from our beta partners has been incredibly positive," said Katie Ruigh, SVP of Product at American Well. "Provider experience is crucial to telehealth expansion, and creating experiences that delight this community is an important part of our mission.
We welcome this feedback and have invested heavily in R&D to reflect these research- driven insights."
Earlier this week, American Well announced plans to acquire Avizia, the lead player in acute care telehealth.
This acquisition brings to American Well a comprehensive acute care capability, including the best in class hospital-based cart lineup and custom software workflows for more than forty clinical specialties, including telestroke and tele-behavioral health. The move will enhance options available to clients across American Well's diverse telehealth ecosystem, including health systems, health plans, consumer aggregators, and health care service innovators, enabling clients to choose one comprehensive single platform solution.
American Well is exhibiting at the American Telemedicine Association Annual Meeting on April 29-May 1 in Chicago. Visit booth #605.
About American Well
American Well is the leading telehealth platform in the United States, connecting the nation's largest hospitals, insurers, employers, and consumer technology companies for the purpose of delivering healthcare anywhere. Highly-rated by KLAS for "ease of use" in the 2017 Telehealth Virtual Care Platforms report,*American Well is transforming healthcare by creating a first-of-its kind telehealth marketplace, the Exchange, to deliver medical care seamlessly through technology. With its strong partnerships in the U.S. and global markets, as well as its direct-to-consumer service Amwell®, the company connects millions of people to the doctors they trust for live video visits for everything from urgent care to chronic care management and lifestyle support.
American Well's software platform has the built-in capability for hospitals and healthcare providers to deliver care digitally, reaching beyond geography, with wrap around turn-key services and customization to extend care beyond the four walls of a hospital and into the hands of consumers. With a decade of experience, American Well powers telehealth solutions for over 75 health systems, 140 unique telehealth use cases and 55 health plan partners covering 147 million lives, helping 1 in 3 Americans get the care they need, when and where they need it most. For more information, please visit AmericanWell.com.
American Well, Amwell and The Exchange are registered trademarks or trademarks of American Well Corporation in the United States and other countries. All other trademarks used herein are the property of their respective owners.
*Telehealth Virtual Care Platforms 2017, September 2017, © KLAS 2018 www.klasresearch.com
Media Contact:
Catherine Anderson
617-840-6213
catherine.anderson@americanwell.com