Board of Directors
Providing stakeholders value under guidance and leadership...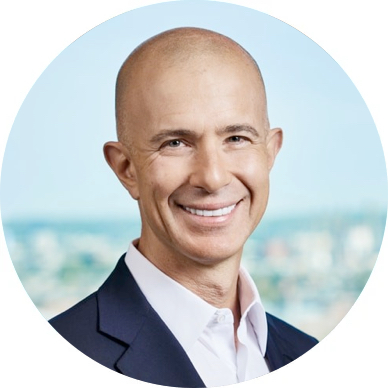 Ido Schoenberg, MD
Chairman & CEO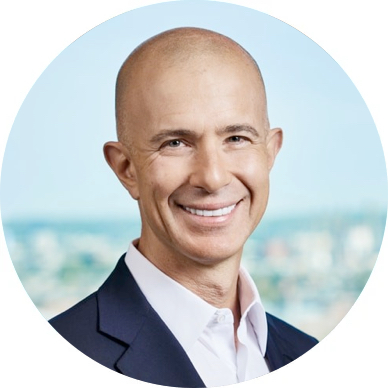 Ido Schoenberg, MD
Chairman & CEO
Ido Schoenberg serves as the Chairman and CEO of Amwell and oversees the company's corporate strategy. Since co-founding the company in 2006, with Roy Schoenberg, Ido has led its strategic direction, growing Amwell to become one of the largest digital care enablement companies in the world. Ido has a lengthy track record of successfully leading technology companies in the healthcare field. In 1996, together with Phyllis Gotlib, he co-founded iMDSoft, a provider of enterprise software that automates hospital critical care units. He grew the company into a market leader with a large multi-national install base in the U.S., Europe, and East Asia. In 2001, Ido joined CareKey Inc. as Chief Executive Officer and took the company through its acquisition by the TriZetto group. Ido served as TriZetto's Chief Business Strategy Officer until his departure in the summer of 2006. Ido received his MD from the Sackler School of Medicine.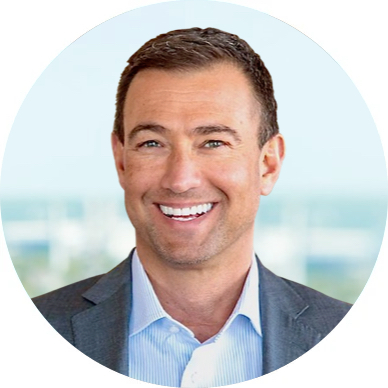 Roy Schoenberg, MD MPH
President & CEO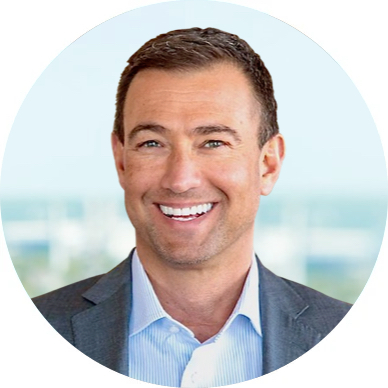 Roy Schoenberg, MD MPH
President & CEO
Dr. Roy Schoenberg is President and CEO of Amwell. Since co-founding the company with his brother Ido Schoenberg, Amwell has grown to become one of the largest digital care enablement eco-systems in the world, digitally connecting healthcare's key stakeholders - payers, providers, and millions of patients in an efficient, modern healthcare experience. Prior to Amwell, Roy was the founder of CareKey and served as Chief Information Security Officer at TriZetto, following its acquisition of CareKey. In 2013, Roy was appointed to the Federation of State Medical Boards' Taskforce that issued the landmark guidelines for the "Appropriate Use of Telemedicine in the Practice of Medicine." Roy was named one of Modern Healthcare's 100 Most Influential People in Healthcare in 2020 and is the 2014 recipient of the American Telemedicine Association Industry award for leadership in the field of telemedicine. An inventor at heart, Roy holds over 50 issued US Patents in the area of healthcare technology, speaks frequently in industry and policy forums, serves on the healthcare advisory board of MIT Sloan, holds an MD from the Hebrew University and an MPH from Harvard. He is a sailor, scuba-diver, and, between September and February, a devoted football fan.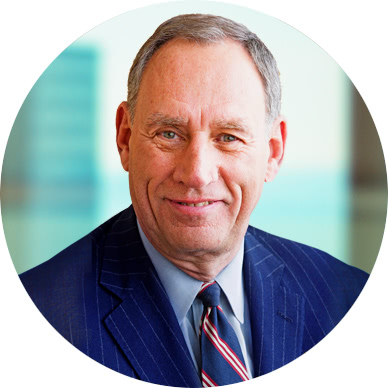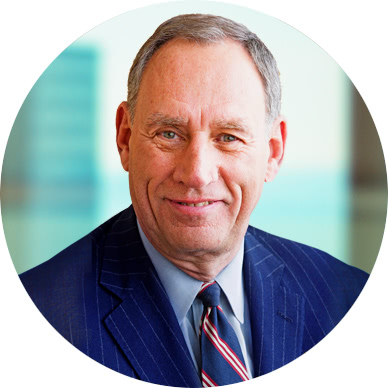 Toby Cosgrove, MD
Toby Cosgrove, MD, is former CEO and president of Cleveland Clinic. Serving from 2004 through 2017, he led the $8 billion organization to new heights of achievement and efficiency, seeing it ranked the #2 hospital in America (U.S. News). He currently serves as Executive Advisor, working with Cleveland Clinic leadership on strategies for national and international growth.
Dr. Cosgrove graduated from Williams College and the University of Virginia School of Medicine. He trained at Massachusetts General Hospital and Brook General Hospital in London. In 1967, he was a surgeon in the U.S. Air Force, earning a Bronze Star.
Dr. Cosgrove joined Cleveland Clinic in 1975, and chaired the Department of Thoracic and Cardiovascular surgery from 1989 to 2004. He performed over 22,000 operations and earned an international reputation in valve repair He holds 30 patents for medical innovations. As CEO from 2004 to 2017, he reorganized services, improved outcomes and patient experience, and strengthened the organization's finances.
He is a member of the National Academy of Medicine, and a Fellow of the National Academy of Inventors. In 2016, he was a Fortune Businessperson of the Year (No. 14). Three successive presidents of the United States have consulted him on healthcare issues.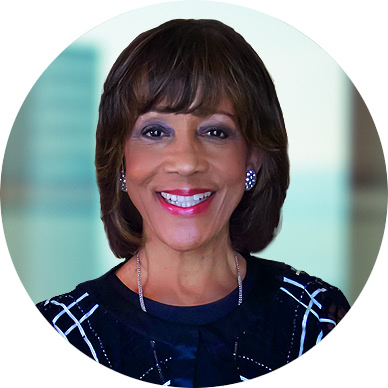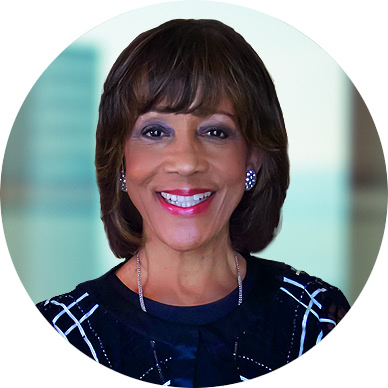 Deborah Jackson
In 2011, Deborah C. Jackson became the President of Cambridge College, bringing to the institution decades of leadership expertise from a number of Boston's leading institutions. She had previously served for nearly a decade as CEO of the American Red Cross of Eastern Massachusetts. Prior to that, she was vice president of the Boston Foundation and senior vice president at Boston Children's Hospital. She spent a decade early in her career at one of the country's leading research and consulting firms, Abt Associates, where she served as the Deputy Director of its Healthcare and Income Security Group.
Throughout her career, Ms. Jackson has served on numerous boards and commissions including serving on the Mayor's Task Force on Healthcare Disparities as Co‑Chair, the Group Insurance Commission of the Commonwealth of Massachusetts, the Board of Directors of Harvard Pilgrim Health Care, and the National Association of Corporate Directors. She currently serves as the Lead Director of Eastern Bank Corporation and is a board member of the Eastern Bank Charitable Foundation and serves on the boards of John Hancock Investments and the Massachusetts Women's Forum.
Ms. Jackson attended Hampton University and completed her undergraduate studies at Northeastern University. She attended graduate school at the Massachusetts Institute of Technology in the Department of Urban Studies and Planning and attended the Harvard University Advanced Leadership Institute. She is the recipient of honorary doctorate degrees from Curry College and Merrimack Valley College.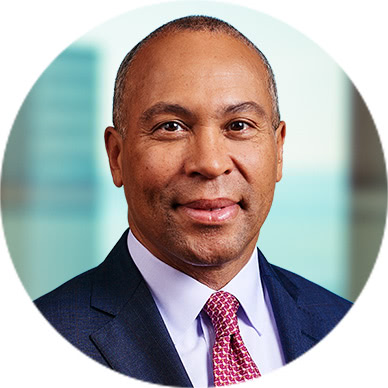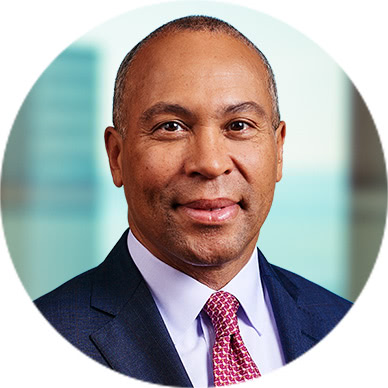 Deval Patrick
Originally from the South Side of Chicago, Patrick came to Massachusetts at 14, when he was awarded a scholarship to Milton Academy through the Boston-based organization A Better Chance. After Harvard College and Harvard Law School, he clerked for a federal appellate judge and then launched a career as an attorney and business executive, becoming partner at two Boston law firms and a senior executive at Texaco and Coca-Cola. In 1994, President Clinton appointed Patrick to the nation's top civil rights post, Assistant Attorney General for Civil Rights.
In 2006, in his first bid for public office, he became the state's first African- American governor. In his two terms as Governor, Patrick oversaw the expansion of affordable health care to more than 98 percent of state residents, launched initiatives stimulating clean energy and biotechnology, won a national Race to the Top grant, and steered the state out of recession to a 25-year high in employment. Patrick currently serves as a Managing Director of Bain Capital LLC, where he focuses on investments that deliver both a competitive financial return and significant positive social impact. He is a Rockefeller Fellow, a Crown Fellow of the Aspen Institute, and the author of two books, A Reason to Believe: Lessons from an Improbable Life and Faith in the Dream: A Call to the Nation to Reclaim American Values.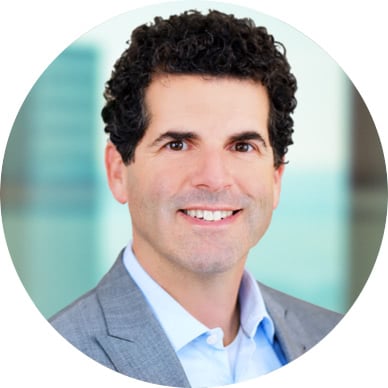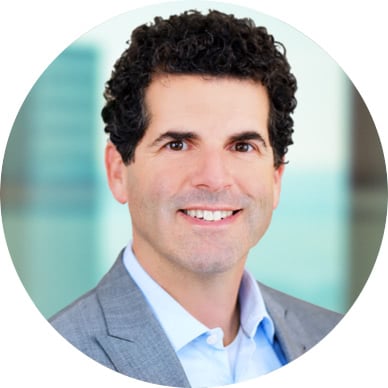 Derek Ross
Derek Ross serves as the Business Leader of Philips Population Health Management. Prior to this role, Derek led the finance organizations for both Philips informatics business groups - Healthcare Informatics and Population Health Management. Derek began his 17 years at Philips as part of the Agilent Healthcare acquisition. During his tenure at Philips, Derek has held various global leadership roles and led the integration of several early stage growth businesses acquisitions. He began his professional career in the investment community at Neuberger Berman.
Derek received his Bachelor of Science degree in Accounting and Information Systems from Babson College and holds an MBA from the F.W. Olin Graduate School of Business at Babson College.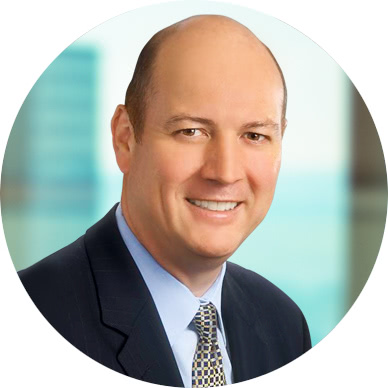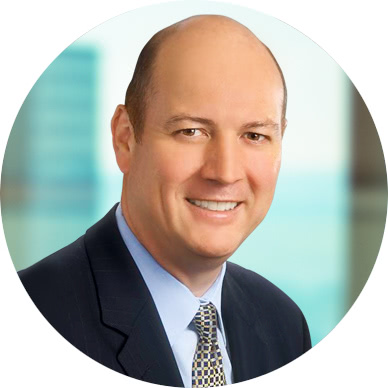 Stephen Schlegel
Stephen J. Schlegel is Vice President, Corporate Development at Anthem. Steve is responsible for leading the company's corporate development activities, managing mergers and acquisitions, including valuation analysis, executing due diligence, and corporate negotiations.
Prior to joining Anthem in 2005, Steve was the Vice President of Corporate Development with Sprint and acting Vice President of Corporate Strategy. At Sprint, Steve participated in the development of the corporation's strategic direction and played an essential role in Sprint's merger with Nextel.
Steve earned an MBA in finance from the University of Chicago and a BA in accounting from Loras College in Dubuque, Iowa.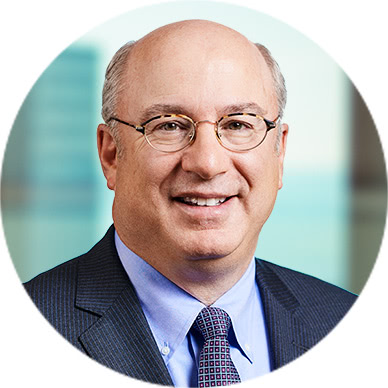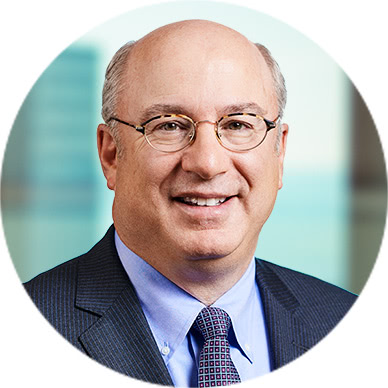 Peter L. Slavin, MD
Peter L. Slavin, MD became the President of Massachusetts General Hospital on January 1, 2003. From 1999-2002, he served as Chairman and Chief Executive Officer of the Massachusetts General Physicians Organization, which included over 1,700 physicians and employed nearly 1,000 of them.
From 1997 to 1999, Slavin served as President of Barnes-Jewish Hospital in St. Louis, Missouri. Before that, he did his training in Internal Medicine at Massachusetts General Hospital from 1984 to 1987 and was Senior Vice President and Chief Medical Officer from 1994 to 1997.
Slavin graduated from Harvard College in 1979, Harvard Medical School in 1984, and Harvard Business School in 1990.
Slavin teaches internal medicine and health care management at Harvard Medical School where he is a Professor of Health Care Policy.
He serves on the Board of the Association of American Medical Colleges.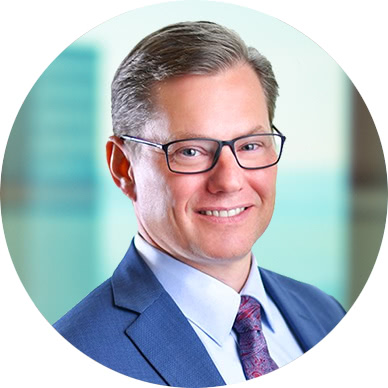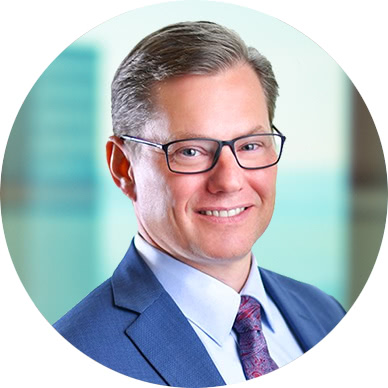 Rob Webb
Rob Webb is an experienced health care executive and board member, and advocate for innovation in long-established industries. Most recently, he spent 19 years with UnitedHealth Group in a number of executive roles, including the CEO of Optum's consumer and specialty network businesses for 10 years, and the president of UHG Ventures for 9 years. He is currently the president of Onward Ventures, a venture studio focused on driving innovation in health care and other industries.
In addition to the American Well board, Rob serves in a board role for Ardent Health, Delmec Ireland, and The Kellogg School Health Care Advisory Board. He has held board roles for fast-growing, innovate health care businesses, including Symphonix Health, Sanvello, Naviguard, Bind Insurance (now Surest), Level2 and others.
Rob received his bachelor's degree in mechanical engineering from the University of Minnesota, and his MBA in finance from the Kellogg School of Management at Northwestern University.