The National Business Group on Health's (NBGH) recent Large Employers' 2018 Health Care Strategy and Plan Design Survey results show promise for telemedicine with 96% of employers planning to offer telehealth benefits in 2018.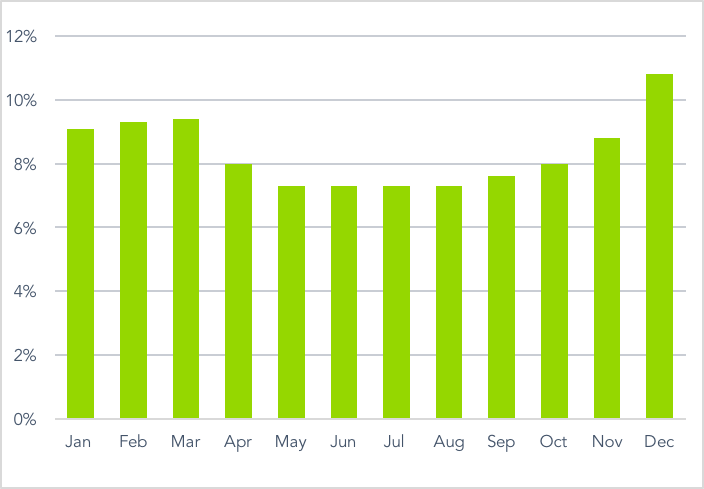 There has never been a better time to invest in telehealth. September marks the beginning of cold and flu season, a peak season for direct-to-consumer telehealth. This time of year, we typically see an increase in consumers going online looking for affordable care options. Activity will group through the fall and winter before tapering off in April and May.
The NBGH survey results found that large U.S. employers estimate that in 2018, their per employee benefit costs will surpass $14,000 including premiums and out-of-pocket costs. Employees will take on roughly 30% or nearly $4,400 of this cost while employers will cover the balance. This will be the fifth consecutive year with a 5% increase in healthcare benefit costs.
With nearly all large employers planning to offer telehealth services by 2020, there is an enormous opportunity for the local health systems to provide telemedicine services that meet the needs of local employers. Telehealth offered through the local health system reduces fragmentation and reinforces strong relationships between patients and local systems. When integrated into the local employer's health plan the patient, health system, and health plan all benefit. This can pave the way to more integrated models and value-based reimbursement relationships.
CHI Health in Nebraska and Hospital Sisters Health System (HSHS) Medical Group in Illinois are two partners who have successfully incorporated employer virtual care programs to create valuable relationships with local employers and offer a competitive package that meets the needs of consumers and positions the organizations competitively for an at-risk environment.
CHI Health has a three-part commitment to their local employers – transparency, accountability, and affordability. This includes providing easy access to cost data, lowering costs to or below the regional cost average, and working with insurers to bring new options to market.
HSHS Medical Group has contracted with four local employers allowing their employees and their dependents to gain access through a dedicated portal or app.
With large employer telehealth adoption projected to reach 96% next year, health systems need to become a lot more competitive to gain and retain market share. This data presents an opportunity to build valuable partnerships with employers to better support the care continuum and reduce care fragmentation.
Avizia was acquired by Amwell in July of 2018. Information on this page refers to activities that occurred prior to the acquisition and are presented for historical context. Together we provide a comprehensive acute care offering—a full end-to-end telemedicine solution for health systems and their providers.