This week marked another media milestone for American Well – our company, CEO and several of our partners were featured in a Wall Street Journal (WSJ) cover story on telemedicine and how it is "finally living up to its potential."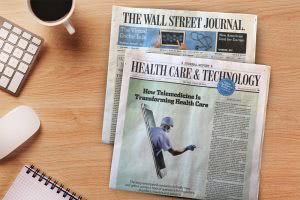 The WSJ story caps a recent shift in the industry – and related news coverage – toward evaluating how major healthcare providers, health plans, employers, and retailers are now using telemedicine, as opposed to the futuristic analyses of days gone by.
Recent business stories that take a look at the implementation of telemedicine by leading healthcare brands include:
While we are of course pleased with the great coverage for American Well and some of our partners – including Anthem, Cleveland Clinic, CVS Health, Intermountain Healthcare, Nemours Children's Health System, and UnitedHealth Group – we are just as excited to bear witness to telemedicine's graduation from new and untested to established and transformative.
Here's to a bright future indeed.