By Mike Lemovitz, Director of Client Relations
There's been a lot of talk in the healthcare world about telemedicine kiosks lately, as HealthSpot recently notified its customers that it was no longer in business as of December 31, 2015. HealthSpot made a valuable contribution to the industry, with the company's products and services going far in demonstrating the benefits of telehealth. In this post we'll share our insight on kiosks based on our own product line, to address the many questions raised by our partners and industry experts. Our own experience with kiosks has been quite positive – we've seen great growth and potential in telehealth kiosks.  We're now deployed in many states to a number of partners in the hospital and health system, retail, and employer spaces.  
On-Demand Care 
There are many reasons why our customers are so excited about kiosks and how they're using them. One key difference between our kiosks and HealthSpot's kiosks is that ours deliver care on demand – you can go into an Amwell kiosk and see a doctor immediately, whereas other kiosk companies require scheduling ahead of time.  Our workflow allows patients to connect with a doctor or clinician right in the kiosk, which eliminates the need for on-site staff members to accompany each kiosk at all times. When a patient begins to interact with one of our kiosks, they are matched to an appropriate provider (both in terms of licensure and specialty) within seconds, and a live video visit begins.  The kiosks can be remotely staffed by a client's providers, or staffed by Online Care Group, our exclusive affiliate national telehealth provider group.  Telemedicine on demand, whether in a grocery store or in an office, is a key reason our partners are so excited about the kiosk line Amwell offers.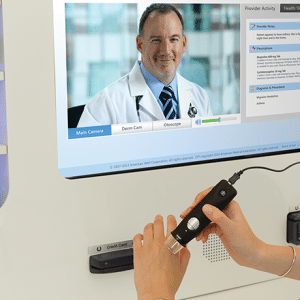 Here are a few more reasons that employers, retailers, and health systems are excited about kiosks.
Employers
Employers are using kiosks in a multitude of ways.  Kiosks are a simple, cost-effective option for opening an on-site clinic.  With kiosks, employees can be matched with a doctor of their choice within seconds, and biometric devices come as part of the setup to address the needs of the visit.  Having a kiosk on site provides affordable access to care, for both the employer and the employee.  
A kiosk also helps reduce absenteeism and increases productivity for the employees, as well as freeing up time for staff that would otherwise run an on-site clinic.  In a manufacturing environment, kiosks are quite an effective way to keep employees healthy.
Retailers
Retailers offer kiosks because they're a simple, highly visible way to offer consumers healthcare where they need it.  In comparison to a staffed, on-site clinic, the costs are much lower, while still providing the healthcare benefits that customers need.  
Kiosks increase store traffic, bringing in – and retaining – new customers with this value added service.  Retailers also acquire opportunities to work with important partners such as health plans, hospitals, and employers.
Health systems
Health systems and hospitals also find value in using kiosks, often to expand their brand to surrounding areas.  Kiosks help hospitals project their presence into retail or office locations, bringing healthcare services to new locations.  Health systems are always looking to expand their patient bases, and kiosks allow them to introduce their services to large groups of new patients. Kiosks can provide valuable services like biometric screenings in more rural locations, giving patients the information they need to take necessary steps toward improving their health.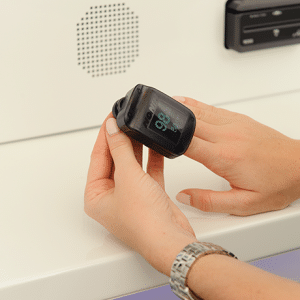 Overall, kiosks can be a powerful tool in delivering healthcare where the patients are.  Kiosks expand awareness about telehealth in general, helping deliver treatment and care to patients who need it.
If you're interested in learning more, sign up for our upcoming kiosk webinar on January 26th at 1 pm, or get more information here.
Mike Lemovitz is a Director of Client Relations at Amwell, working with our health system clients to roll out telehealth.