Treating Mental Health through Telehealth: Understanding Physician and Consumer Willingness
Approximately one in five adults in the United States has a mental illness,1 but only 41% of those with a mental illness receive the necessary treatment.2 The reasons why those suffering do not seek treatment vary, but often times it's associated with things such as stigma and a lack of access to care. While mental health is important to discuss all year long, in conjunction with Mental Illness Awareness week, we wanted to bring special attention to those suffering and discuss how telehealth can help.
Telehealth can play an important role in improving access to mental health care and can help eliminate the stigma associated with seeking treatment. But are patients and providers willing to use telehealth for behavioral health treatment? Amwell recently ran two surveys to measure patient and physician sentiments toward telepsychiatry and uncovered some interesting trends related to behavioral health.
Psychiatrists want to and are using telehealth
Amwell's 2019 Physician Survey found that 69% of physicians are willing to use telehealth and 22% have used it. The survey also analyzed physician willingness and usage by specialty. Of all the specialists surveyed, psychiatrists were among the most willing to use telehealth and were the most likely to have used it. While most specialties had a large gap between willingness to use telehealth and actual telehealth usage, psychiatrists were the only specialists with no gap. In fact, every psychiatrist who was interested in practicing telehealth used the technology.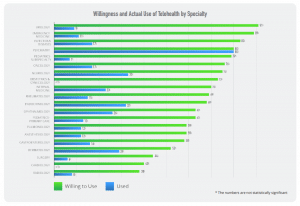 Millennials are most likely to use telehealth for behavioral health
Amwell also conducted a consumer survey to understand where this group sees value in telehealth. While the survey found that most patients are willing to use telehealth, different age demographics wanted telehealth for different things.
Millennials were the age demographic most interested in telehealth for behavioral health. In fact, 38% of millennials said they would see a doctor over video for mental healthcare. This is particularly interesting considering the notable increase in the prevalence of mental health conditions among the millennial population.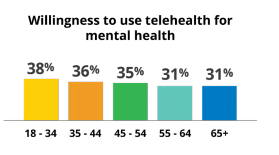 Understanding the demand for behavioral health services and the willingness on behalf of patients and providers to seek care virtually, many healthcare organizations have begun working with their providers to offer behavioral health telehealth to patients and members. Blue Cross Blue Shield of Massachusetts, the largest commercial payer in Massachusetts, is working with its network of behavioral health providers to create a telehealth program that addresses patient access issues. They discuss how they're building that program here.
Behavioral Healthcare Providers, a non-profit behavioral health organization in Minnesota, currently has a program in place to provide virtual mental health assessments to patients in the emergency department who are typically in a crisis state. To learn more about this program click here.
These types of programs are helping address access issues, and importantly, getting those suffering from mental health the care they need.
In honor of Mental Illness Awareness Week, throughout the month of October we are offering patients 10% off therapy visits through Amwell. Click here to learn more and sign up using code: THERAPYOCT10.
1. National Institute of Mental Health, Any Mental Illness (AMI) Among Adults. (n.d.), 2019.
2. Substance Abuse and Mental Health Services Administration, Results from the 2014 National Survey on Drug Use and Health: Mental Health Findings, 2015