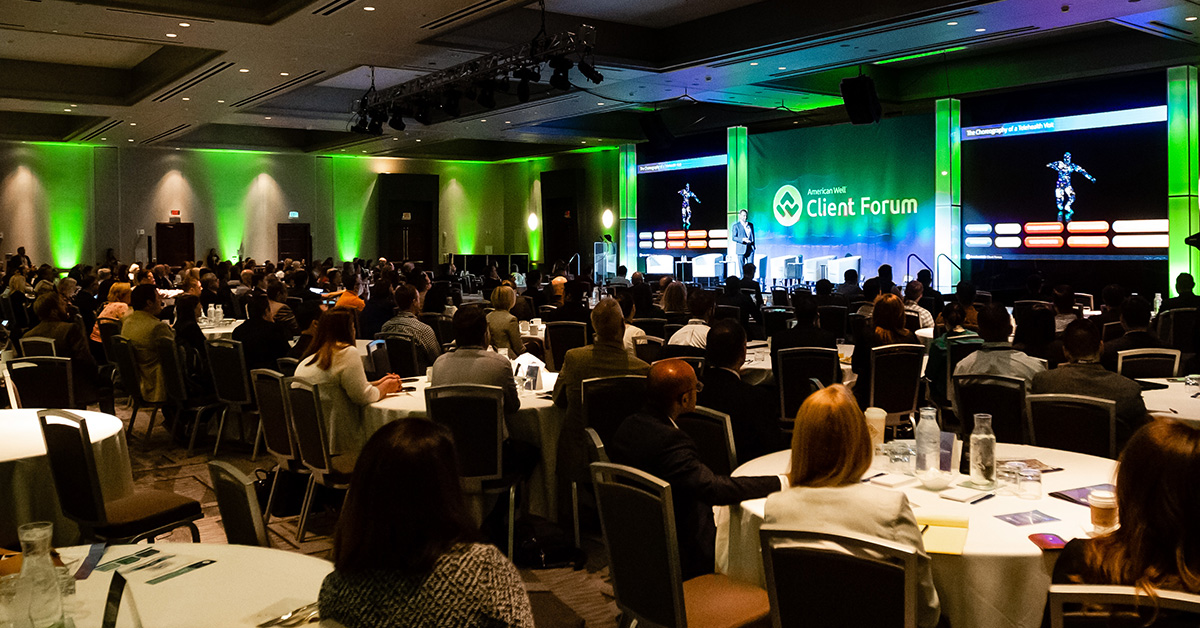 At this year's Client Forum, hosted in Boston, MA, Amwell recognized some of our trusted clients who have been extraordinary leaders throughout their telehealth journey.
Clinical Innovation
First in Clinical Innovation, we recognized achievements in clinical use cases, provider adoption and engagement and clinical workflows. It was only a few years ago that Children's Health was working alongside the Texas State Medical Board to legalize telehealth in the state. In addition to its robust urgent care services and school-based care program, Children's Health has use cases like young women's blood disorders live on its telehealth platform.
Pediatric Associates was also recognized for their triage telehealth program to successfully divert patients away from unnecessary emergency department visits. Their commitment in getting providers on board has been outstanding and a huge part of the reason they were given this award.
And the final award in this category goes to a long-time partner of Amwell's. Cleveland Clinic deserved the recognition of Clinical Innovation for integrating telehealth into over 80 departments across its health system. Cleveland Clinic is a pioneer in adding new providers to its telehealth system.
Engagement Excellence
Next up: Engagement Excellence. This award recognizes success in engaging consumers and patient populations. WEA Trust serves Wisconsin public employers, their staffs and families, and through innovative giveaways and incentivized marketing—WEA Trust enrolled thousands of members in telehealth in less than a year.
Baptist Health South Florida was honored for all of the spent time at community engagement events, helping employees to download the app and training providers across multiple specialties. Thanks to their dedication to spreading this message, they are growing at an impressive rate, constantly striving to rethink healthcare in favor of their consumers and their community.
Also for Engagement Excellence, OSF HealthCare has seen continued success with their direct-to-consumer offering, which can be attributed to the different communication channels they have developed.
Integration Leadership
The Integration Leadership award recognizes those who have successfully managed integrating telehealth and building alignment within organizations. BlueCross BlueShield of South Carolina has collaborated with local provider organizations to offer telehealth services to their patients. BlueCross BlueShield of South Carolina has been working alongside the South Carolina Telehealth Alliance, a statewide collaboration of organizations, to expand telehealth services across the state.
UPMC has been a true partner since the start of our relationship; always eager and willing to partner on strategic initiatives. UPMC works closely with our Product Development team on partner integrations, helping us deliver value to all our clients.
CorVel seamlessly integrated telehealth into its Workers Compensation program. Corvel has successfully conducted a high volume of worker's comp visits and has recently integrated a behavioral health and clinical pain management program into its offerings to support individuals at risk for pain medication addition.
Telehealth Maverick
The Telehealth Maverick award recognizes the forward-thinking innovators who have paved the way. The Mississippi State and School Employees Health Plan was a true maverick when they decided to incorporate telehealth into the state budget. Four years ago, Mississippi began gathering claims data, and more recently, biometrics data, and they have made these data actionable, using them to promote and propel telehealth adoption.
Concentra is utilizing telehealth to see injured workers immediately at employer work sites. Their telehealth program has been instrumental in addressing common pain points for occupational health, including delivering care to workers in remote areas, and providing round-the-clock care to employers who run 24/7 businesses.
Medical University of South Carolina understood that telemedicine needed to be a central component of the healthcare access options for their patient population. Today, MUSC provides a range of telehealth services across 463 distinct telehealth sites and has been spearheading telehealth for more than 12 years.
Key Connector
Finally, the Key Connector award recognizes clients who have consistently made meaningful connections within the ecosystem. Avera Health has always been willing to share and collaborate with other Amwell partners.
Intermountain Healthcare has joined Amwell's Exchange and embodies a true leader in connecting the dots between telehealth and outcomes and has delivered a thoughtful ROI study to provide the industry with benchmark data when evaluating the cost of treatment across venues.
NewYork-Presbyterian doesn't think about telehealth as a silo-ed initiative, but rather as a way to help their organization optimize care delivery and patient experience. They've launched programs across a variety of care settings, including emergency departments, inpatient facilities, pharmacies, schools, urgent care sites, and skilled-nursing facilities. NewYork-Presbyterian's continued drive to continuously innovative to connect physicians remotely makes them an easy choice for the Key Connector award.
Congratulations to all of our award recipients – it's a great honor to partner with each and every one of our clients. We sincerely thank you for your commitment to excellence.
Clinical Innovation:
Children's Health
Pediatric Associates
Cleveland Clinic
Engagement Excellence:
WEA Trust
Baptist Health South Florida
OSF Healthcare
Integration Leadership:
BlueCross BlueShield of South Carolina
UPMC
CorVel
Telehealth Maverick:
The Mississippi State and School Employees Health Plan
Concentra
Medical University of South Carolina
Key Connector:
Avera Health
Intermountain Healthcare
NewYork-Presbyterian