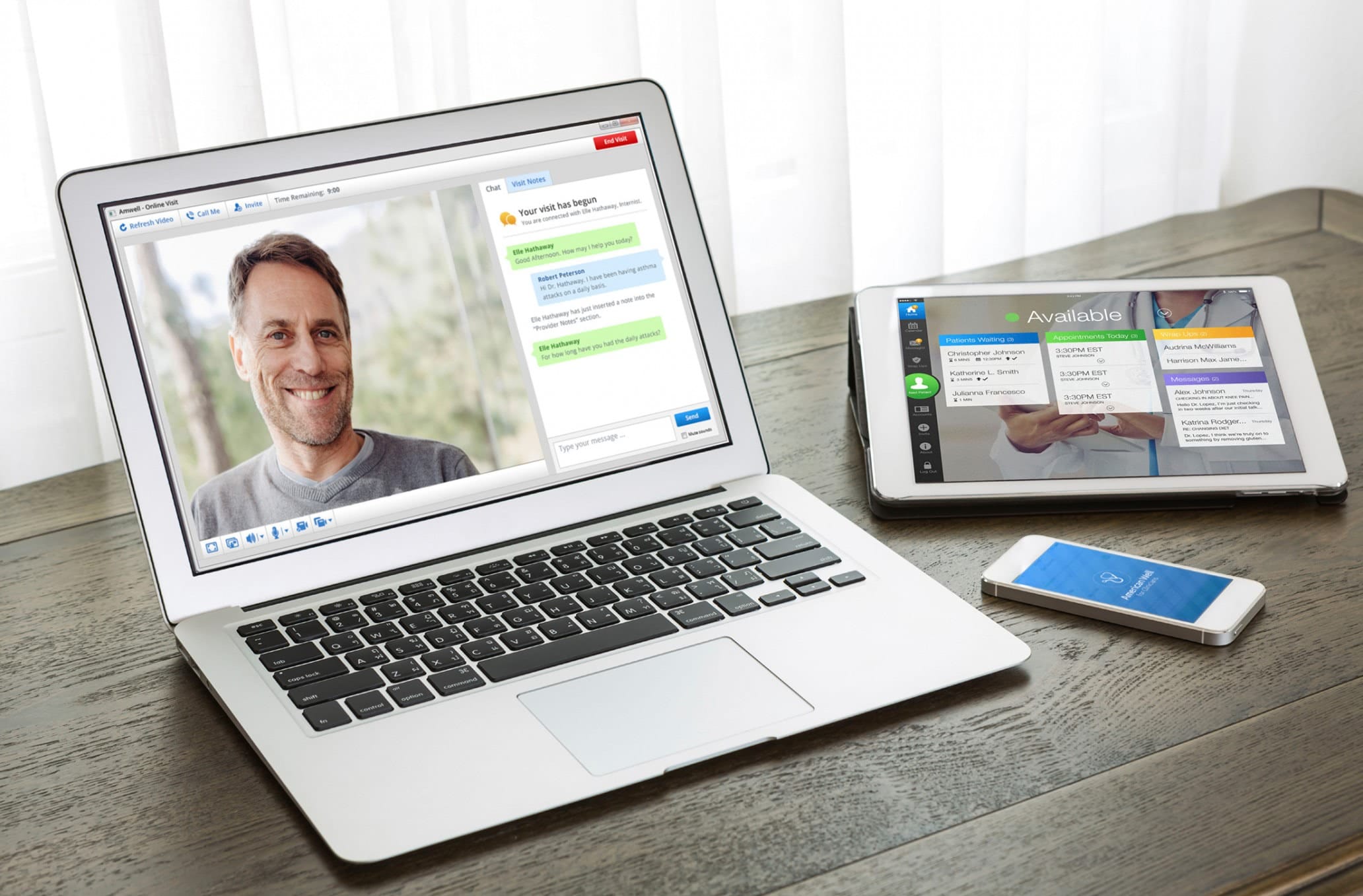 This November at the Becker's Hospital Review 6th Annual CEO + CFO Roundtable in Chicago, physicians from top health systems came together to discuss how they are ensuring quality standards are met and upheld during video visits. The discussion, which was moderated by Sylvia Romm, MD, medical director at Amwell, included the following panelists:
Bruce Rosenthal, MD, Medical Director, Consumer Telehealth Services, UPMC
Shayan Vyas, MD, Medical Director, Nemours
Peter Rasmussen, MD, Medical Director, Distance Health, Cleveland Clinic
Will Daines, MD, Medical Director, Intermountain Connect Care
Below is a breakdown of the five biggest takeaways for this clinical meeting of the minds:
1. Leadership buy-in is critical to your telehealth program's success
"I can't emphasize how important CEO leadership around telemedicine is," says Dr. Peter Rasmussen, medical director of distance health at the Cleveland Clinic, who noted that Cleveland Clinic's CEO Toby Cosgrove got involved in telehealth at the health system and moved things forward. Today, Cleveland Clinic offers more than 55 different telehealth clinical services, including psychiatry, oncology, and home health.
But it's not just CEO buy-in that's important; all leadership should be engaged in the program. "You can't view telehealth as a separate vertical," says Dr. Rasmussen. "We can't operate without the support of legal, finance, IT, marketing and the communications team."
2. Build a telehealth program on what already exists
"We know it's a process for physicians to move from skepticism to acceptance," says Dr. Will Daines, medical director of Intermountain Care Connect at Intermountain Healthcare. "But we know we can move that forward if we mimic similar care."
Rooting telehealth into your already existing medical best practices is the easiest way to build a successful program. "Telehealth is going to face scrutiny because of its novelty," says Daines. "Start with the clinical basics and expand further into telehealth as its appropriate."
Each of Intermountain's clinical programs–oncology, behavioral health, primary care—have identified and written best practices around particular clinical issues. Dr. Daines and his team used these existing best practices and adapted them for telehealth, mirroring in-person care as much as possible.
Admittedly, says Dr. Daines, some care process models adapt better than others for telehealth. "An easy adaption was sinusitis, whereas our care process model for ear pain was not as readily adaptable. We can't visualize the membrane, and therefore did not feel comfortable diagnosing that over video."
For conditions that do not lend themselves well to treatment via video, Intermountain instead uses telehealth for triage—is the patient sick enough that they should go to the ER tonight, or can they wait and go to primary care in the morning?
Nemours, a children's health system spread throughout six states, deploys a similar strategy for pediatric conditions they consider untreatable via telehealth. "We won't diagnose strep or ear pain because we can't test those conditions via telehealth," says Dr. Shayan Vyas, medical director at Nemours. "But what we can do is prevent unnecessary ER visits.
3. Invest in support services
The telehealth end-user and provider experience are designed to be easy and intuitive. Yet, to accomplish this ease-of-use interface a lot must happen on the back end. Having support services that are dedicated to telehealth will make the overall program run more efficiently.
"For an organization that's serious about telehealth, you don't just need strategic leadership, you need support services," says Dr. Bruce Rosenthal, medical director of consumer telehealth services at UPMC.
These services should include both provider and patient support. "If something goes wrong, we can't expect a provider to fix it," says Dr. Rosenthal. "And if a patient can't figure out how to download an app, they need a support service to call." Investing in this aspect of telehealth is important to the usability of the technology, and ultimately its overall success.
4. Set up checkpoints to demonstrate the value of telehealth to different stakeholders  
As a health system initiating a telehealth service, you may experience hesitation from different departments and stakeholders at first. For example, physicians may worry that telehealth will provide inferior care or steal their patients. A chief financial officer may be concerned that a physician seeing a patient via video translates into a loss in revenue for the emergency department. So it is important to set up  checkpoints that tackle these concerns and measure success in a way that is  important to each stakeholder.
"For providers, we demonstrate what constitutes a high standard of care and how we are meeting that," says Dr. Daines. "For example, we show them telehealth antibiotic prescribing rates for appropriate and inappropriate conditions, and measure how many patients ended up in the ER or urgent care office after having a telehealth visit." These checkpoints can be put in place for all use cases, and measure specific data that would be relevant to that stakeholder, whether they be clinical, technical or financial.
5. Be ready to think entirely differently about care delivery
There is a lot of discussion around practicing telehealth and meeting the same high standards of care. "I think we need to get away from this inferiority complex," says Dr. Rosenthal. "If we are breaking away from brick and mortar, we have to do things differently."
Telehealth is about reaching people with barriers to access, and according to Dr. Rosenthal, that requires a new way of thinking. "Maybe we can use the Centor criteria [for strep throat] with a patient who, based on characteristics, has a 60-70% chance of strep. Maybe in that case it makes sense to prescribe. Or why don't we have drug stores do strep tests? We need to think of new strategies to help us put telehealth in place."
Dr. Rasmussen agrees. "We need to be thinking entirely differently in telehealth." For multiple sclerosis patients who travel long distances for care, Cleveland Clinic holds pre-visits via telehealth to go through paperwork and imaging to help determine if an in-person visit would be meaningful and help treat that patient. "If the answer is yes, then they already have the imaging pre-scheduled and set up for that visit."
This group of physicians is responsible for revolutionizing care within their respective health systems, but also within the healthcare industry. The more health systems adopt telehealth, the more we need physician champions who are not only committed to building a high-quality telehealth service, but who are willing to challenge the industry norm and pave the way for more innovative care delivery. "Technology is growing," says Dr. Vyas. "If you're not developing a strategy for telehealth now, then you're going to be left behind."