The COVID-19 virus has reshaped daily life and overwhelmed our nation's healthcare infrastructure in a very short time. As the scope and speed of COVID-19 transmission became clear in early March, telehealth emerged as a key part of the response and has become even more critical as social distancing measures and stay-at-home orders have taken effect.
Policymakers and public officials have moved quickly to broaden telehealth access in order to meet the sudden demand for both COVID-19-related care and the routine medical care that must now happen remotely.
On March 5, Congress passed the Coronavirus Preparedness and Response Supplemental Appropriations Act, which contained a provision giving the Secretary of Health and Human Services (HHS) the authority to temporarily waive certain telehealth restrictions for Medicare. Then, following the declaration of a national emergency by President Trump, the Centers for Medicare & Medicaid Services (CMS) expanded telehealth further for Medicare beneficiaries and the Drug Enforcement Administration (DEA) waived restrictions on prescribing controlled substances via telehealth.
These regulatory exceptions, which will remain in effect for as long as the public health emergency is in effect, have created a new and rapidly evolving situation for telehealth. Here's what providers and payers need to know regarding the changes to Medicare and other telehealth policies:
What are the major changes to Medicare reimbursement as a result of this act?
This chart provides a summary of all the temporary changes enacted by CMS (click to enlarge):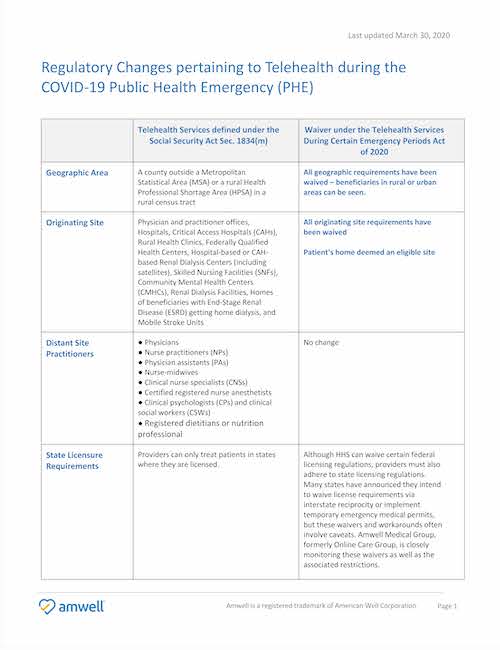 Do the recent changes to Medicare reimbursement cover COVID-19 related visits only?
No. To support social distancing recommendations, the telehealth wavier applies to treatment of all diagnosis during the public health emergency, not just COVID-19 related visits. For example, a beneficiary can visit with their doctor before receiving a prescription refill. Providers should continue to use telehealth billable codes.
Can I give away telehealth visits for free or waive the co-payment for a Medicare and Medicaid beneficiary?
Yes. While the use of telehealth usually does not change the out of pocket costs for beneficiaries with Original Medicare, HHS Office of Inspector General is providing flexibility for healthcare providers to reduce or waive cost-sharing for telehealth visits paid by federal health care programs.
In fact, the Families First Coronavirus Response Act mandates $0 cost sharing for Medicare (both FFS and Medicare Advantage) and Medicaid beneficiaries for certain visits during the public health emergency.
Are co-pays for telehealth visits still allowed?
The Families First Coronavirus Response Act, passed on March 18th, mandates that most payers cover without cost sharing (or prior authorization or other medical management): (1) testing for COVID-19 and (2) any visit, including telehealth visits, during which a patient is referred for a COVID-19 test. For Medicare FFS, the cost sharing mandate applies to a broader set of visits, including office and other outpatient services.
This mandatory $0 cost share applies to: Commercial Insurers; Medicare FFS; Medicare Advantage; Medicaid and CHIP; Tricare, Veterans and Civil Servants; and Indian Health Services.
Can controlled substances be prescribed over telehealth?
During the public health emergency, yes. Usually controlled substances can only be prescribed over telehealth if the prescribing provider has seen the patient for an in-person medical evaluation first. However, the Controlled Substances Act contains exceptions to this requirement, including public health emergencies. For as long as the Secretary's public health emergency remains in effect, DEA-registered practitioners may issue prescriptions for controlled substances to patients for whom they have not conducted an in-person medical evaluation.
Can providers practice across state lines?
Although HHS can waive certain federal licensing regulations, providers must also adhere to state licensing regulations, which are set by each individual state. Many states have announced they intend to waive license requirements via interstate reciprocity or implement temporary emergency medical permits, but these waivers and workarounds often involve caveats.
Additional resources: