Name: Sierra Sohl-Dickstein
Title: Senior Product Manager
Department: Product Management
Start Date: December, 2014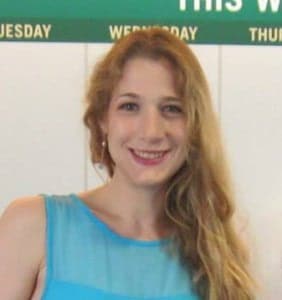 What attracted you to Amwell?
When I was interviewing, I was struck by the enthusiasm of everyone I met. I saw joining Amwell as an opportunity to be part of a team where everyone was completely invested in what we're doing and where we're headed. Day in, day out, I've always felt that it's the people that make the organization.  Right away, I could tell I would be joining a really strong group and working alongside a great set of people. After trying our product, it was easy to see so many opportunities for it to improve the healthcare experience on a wide scale. The potential to make an impact felt really high, which was exciting then, and remains so today!
What does a day in the life of a Product Manager look like?
Every day is completely different – that variety is one of the things I love about working at Amwell.  In product, one of our core functions is to manage the product roadmap. We look to customers to provide information on their needs and experiences, and we consider how the product could address their challenges. We meet regularly with each customer's project manager to understand how the customer is using the product, and discuss high priority issues.
For me, every day starts with Agile style stand-ups with our web and mobile development teams. We talk about what's going on in the development process for a release cycle, and raise any blocking issues.  We're always looking forward to the next release so I spend a good deal of time collaborating with colleagues in Development, QA, and Visual Design to define new features. This may include wireframing a redesigned version of the patient homepage, or just whiteboarding requirements with the team.
Depending on the day, I might also be writing Release Notes, working with other internal departments at Amwell, or speaking with another company with whom we might collaborate.
What are your hobbies outside of work?
I enjoy running and exploring new neighborhoods around Boston. Some friends and I have a paint club, where we get together and all paint the same scene. I also really enjoy camping in the Summer and Fall, especially at Hermit Island Campground in Maine.
 Have you used Amwell's direct-to-consumer app, Amwell?
Yes, many times! I had my first 'real' visit just a few weeks after starting at Amwell. I had flu-like symptoms, a terrible sore throat, and was losing my voice. When the video visit began, I got out two words, and my voice was completely shot. I gestured to my boyfriend to come over and tell the doctor about my symptoms. The doctor guided me to shine a flashlight i to my mouth so that she could look at my throat. I also used the chat function to type answers to the doctor's questions. It turned out I had a robust case of laryngitis.
What are your thoughts on the ways healthcare is changing and what we can expect to see in the future?
In healthcare, quality always matters. More and more, I think people expect that quality to be easily accessible, and affordable. I'm convinced that having a visit online will soon be a very common way to access care, whether for an urgent care issue, a follow-up appointment, or to manage a chronic condition.  Telehealth will be just another way to receive care, and often the most convenient.
Each release, I see how new features, like multiway video, can enhance how patients get healthcare, and allow them to get the support they need. At this moment, there are still a lot of challenges we face in healthcare, but there's so much focus on this area, and our momentum is growing. I think there are endless opportunities for technology to solve healthcare problems, and it's a tremendously exciting time!
What were you doing before you came onboard?
Optimus Prime, Megatron, Dinobot Slog – before Amwell, I was on Hasbro's Transformers Global Brand Team. I worked on core products as well as the new Transformers television show. Before that, I worked at the Harvard School of Public Health for seven years, which helped me to better understand the challenges we face in providing healthcare to all.
When you talk about telehealth with friends and family, what do you say?
I start with the basics that when they're sick, they can go online and get immediate help from a doctor, 24/7. This scenario resonates with everyone who has raced to an urgent care clinic, only to wait around for a long time feeling crummy. But, Amwell does so much more, and I talk a lot about how much choice our platform offers customers. Whether it's getting wrap-around support from the Online Care Group, offering therapy or nutrition appointments, or adding on Kiosks or Telemed Tablets, Amwell's offering can be modular, and completely flexible. It allows the customer to launch quickly, and then continue to enhance its offering. When I talk about work, folks are always surprised at just how much the Amwell platform can offer, and how much choice the customer has in designing the patient experience.