Telehealth is on every healthcare exec's 2016 agenda and this year's HIMSS is the place to get a deeper dive into what's next for online care. Here's a teaser to tide you over until the conference kicks off Monday – yesterday we released the first-ever telehealth mobile SDK.
Your Guide to Telehealth at HIMSS
There's so much to see in such a short time. Here's our guide to telehealth at HIMSS. See you there!
Learn here.
MON. FEB. 29 – 8:30 AM – 4 PM: Connected Health Symposium
Topics include the impact of telehealth and mobile tech on policy, payment, and how to achieve clinical and financial results.
Test drive here.
TUES. MAR. 1– THURS. MAR 4: Check out AW9: Booth #2154
Meet with Amwell's professional product team and receive live demos of our newest product features including industry first video solutions.
We're also hosting live demos of our kiosk on March 1-2.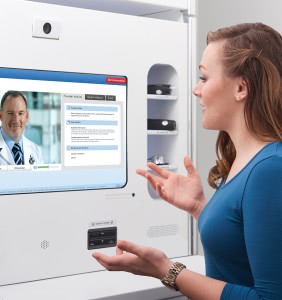 And keep an eye out for our leadership team – Roy Schoenberg, Danielle Russella, and Peter Antall will all be there. They'll be joined by John Jesser from LiveHealthOnline and many of our other partners.