Our team at Amwell recently co-authored a white paper with Deloitte Consulting's Center for Connected Health. The white paper is a deep dive into the core use cases for telehealth. And it also includes a step-by-step guide to developing and implementing an effective telehealth strategy. The paper gets at the root of telehealth's power to transform healthcare.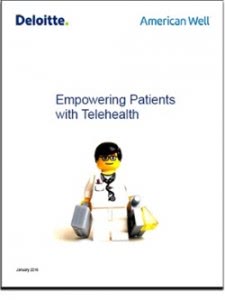 Read the abstract, then download the full paper:
With the rapid evolution of the health care industry, health care delivery organizations are leveraging innovative solutions to meet these challenges. It is imperative that provider-centric organizations seek solutions that combine disease management, health informatics, and supporting technologies to improve access to care and health outcomes. Telehealth—the provision of high-quality, real-time video encounters between patients and providers—is a powerful tool that can support healthier patients. At its core, telehealth aims to provide care anytime, anywhere, on any type of device—be it a web browser, a mobile phone or tablet, or a standalone kiosk. When telehealth is fully integrated into an existing health care system, patients have access to on-demand care from an accredited provider with the touch of a button. This bypasses lengthy wait times and can avoid a high-cost urgent care visit. A patient's location and mobility does not limit the scope or quality of available care. The need to travel to a brickand-mortar facility is no longer an assumed requirement or barrier to care. Rather, a patient can engage in a virtual visit with a provider from the comfort, security, and privacy of home—or wherever he or she may be.