In 2014, Southwest Medical Associates, one of Nevada's largest multi-specialty medical groups, partnered with Amwell to launch its telehealth service, SMA NowClinic.   In the newly released case study, we reveal how Southwest Medical enrolled more than 30,000 patients in its program and conducted more than 20,000 telehealth visits.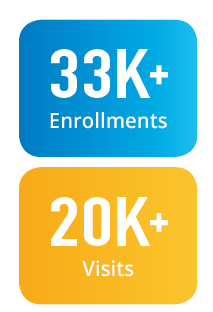 You can read the case study in its entirety here, but here are some of the highlights.
About Southwest Medical
Southwest Medical offers primary care, specialty care and urgent care, in addition to a variety of specialized, focused programs. The organization is a wholly-owned subsidiary of UnitedHealth Group and Optum and includes a mix of different payers.
Goals for SMA NowClinic
Southwest Medical set out to achieve four broad goals with its telemedicine initiatives:
Improve the patient experience
Improve population health
Reduce per capita costs
Improve the provider experience
Training and staffing physicians
Southwest Medical launched a pilot program in October 2013 to prepare providers for all possible scenarios. This was especially important because the organization put a big focus on provider engagement, training and staffing for NowClinic.
The physician training program consisted of a profile setup, system overview, self-study modules, a system demonstration, mock visits and coaching, workstation testing and activation. This plan allowed the team to ensure that all providers were set up and felt confident about delivering telemedicine to patients.
Launching NowClinic
After the 3-month initial pilot program, SMA launched NowClinic to 3,000 Nevada UnitedHealth employees, who were all eligible for visits with no co-pays. This second pilot period served to stress test the system and gather employee comments and feedback for enhancing the program.
After six months of the pilot plus an additional soft launch, the team began an integrated marketing campaign, designed to drive visits to the system. The marketing plan consisted of online marketing tactics such as email announcements, web portal highlights and links, and Facebook. The plan also included tactics like health plan newsletters and signage such as posters, danglers, floor decals and brochures to drive awareness of the new service. Finally, in-clinic navigators directed patients to the new service, NowClinic.

Results of the launch
In the first year, Southwest Medical completed over 5,000 visits, with nearly 18,500 enrollments – 6% of the population enrolled in this initial launch stage.  As of mid-2016, Southwest Medical had completed over 33,000 enrollments, with over 20,000 visits.
The team met its initial goal of answering visits in less than 10 minutes, as the average speed to answer was 4 minutes and 23 seconds.

Future plans for NowClinic
Southwest Medical has plans to expand its urgent care offering to launch new services. In 2016, the team launched behavioral health and rheumatology, and is currently training doctors for telehealth in these areas.
For more on how Southwest Medical planned, built and executed an industry-leading telehealth service, read the newly released case study.