By Sarah Natoli
As telehealth becomes more commonplace, consumers need a way to judge the quality of care offered by a company or hospital via this relatively new care delivery system. The American Telemedicine Association (ATA) offers just that through its accreditation program for online patient consultation. Earning this accreditation is a testament to a company or hospital's ongoing commitment to patient choice, high-quality care, and cutting edge technology.
What exactly is the ATA's accreditation program?  And how do you get accreditation?  Here's a look at what it takes to gain the ultimate level of credibility in telehealth.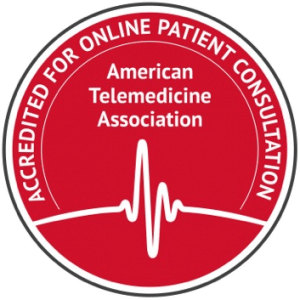 What is the ATA?
The ATA is the governing agency that telehealth organizations look to for guidance. Founded in 1993 this non-profit organization has been instrumental in educating medical professionals and consumers about telehealth as a new mode of healthcare delivery, raising awareness, promoting research and innovation, and helping develop policy.
In 2014, as more healthcare organizations adopted telehealth services, the ATA launched the first and only accreditation program for online patient visits in the United States. It is similar to other medical accreditation programs in that it looks at all aspects of the practice of virtual medicine, from providers treating patients and the clinical standards they are held to, to the security of the platform, to consumer benefits such as transparency and provider choice.
Which organizations are eligible for ATA accreditation?
To be eligible for the accreditation program, an organization must provide online, real-time patient consults directly to patients. Applicants range from primary care providers to specialty service providers to health systems to businesses with direct-to-consumer offerings. The first business to be awarded this accreditation was Amwell, for our direct-to-consumer offering, Amwell. In the health system realm, Avera Health recently became one of just a few health systems to receive accreditation for its consumer telehealth service AveraNow.
Erika Anderholm, Senior Manager of Provider Services for Amwell's physician affiliate group, shares her experience going through the ATA's accreditation process for Amwell in this video.
What are the criteria?
The ATA's primary concern is consumer safety. It hosts a site dedicated solely to providing consumers with information about telehealth and guidance on selecting a telehealth service that offers high-quality clinical care. To ensure that organizations they accredit protect consumers, the ATA's application process focuses on the following areas:
Security of patient information (HIPAA compliance)
Compliance with laws and regulations
Transparency in pricing and operations
Qualifications and licensing of the providers on the system
Provider training
Clinical practices and guidelines
What is the process to become accredited?
In addition to attesting to their strengths in the referenced areas, applicants must do the following:
Provide substantial documentation in all of these areas
Show the ATA the online resources that their patients have access to about their service
Give the ATA a live demonstrations of their service
Note that the initial application packet is fairly sizeable, and the selection committee may ask for clarification or additional information during the review process.
How long does the application process take?
The timeframe depends on the organization, and the number of applicants under review, but the ATA is efficient. Avera, for example, launched AveraNow in June and announced their accreditation in November. Avera is now listed, along with other accredited services such as Amwell, on the ATA's consumer safety site.
Should our organization get accredited?
In a relatively new industry with explosive growth, the answer is yes. Accreditation serves important functions:
Accreditation helps an organization assess its services against the market standard. If the organization falls short, it can make quality improvements and ensure a better service and experience for patients.
Accreditation helps attract and retain patients. Patients who are "new" to telehealth and potentially unsure about using it will be reassured by the ATA's seal of approval.
Above all else, accreditation shows an organization's commitment to delivering the highest quality of care.
Have more questions about accreditation or insight from your own organization's experience? Please share comments.