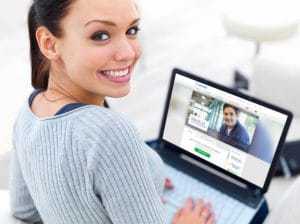 As you get up and running with your telehealth practice, you may be wondering: what exactly do my patients see? Download Amwell, set up your own patient account and explore. But until then, here are some answers to common questions we get from doctors about the patient experience:
1. Who are the patients on Amwell?
Amwell is open to the public, so patients all over download the app and see available providers. You may also see patients of our corporate customers, employers and health plans, who offer Amwell as a service to their employees and members.
2. How will patients find me?
Patients see the list of doctors available for consults based on the patient's current location and licensure of the providers. Patients can filter providers by specialty, and also search by practice name. They see your practice name, welcome message, and availability on your profile page.
3. Do patients see my price and consult length?
Patients will see the visit price you have set for cash-pay as the "visit cost" and they can schedule in 30-minute increments during the times you have available appointments. Patients agree to the cancellation policy in advance of scheduling the visit. The default no-show fee is $20 but can be changed.
4. How do patients schedule a visit with me?
Patients must include a valid credit card to schedule an appointment with you. Once they book the appointment, you'll receive an email confirmation. Then, you can log on to your provider account and learn more about them.
5. Do patients get appointment reminders?
Yes, patients get reminders 15 minutes prior to the appointment and a link to begin their visit and an email suggesting a "readiness check" to ensure that they're prepared for their visit.
Learn more about practicing on Amwell or schedule a call with us.