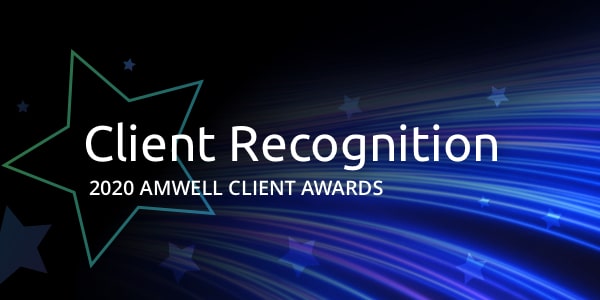 Congratulations to the winners of the 2020 Amwell Client Awards!
As we do each year, the Amwell team has selected from a highly competitive field of clients those who stand out for their innovation and achievement in telehealth.
Our clients are an endless source of inspiration for us, and we conceived these awards six years ago to share their success stories and spur the entire telehealth ecosystem to new heights.
The effort and dedication these awards represent are especially meaningful to us this year. At a time of tremendous stress and uncertainty for our healthcare system and our nation as a whole, the health plans and health systems recognized in the four categories below have shown exceptional vision and leadership in scaling virtual care and improving health outcomes for individuals and communities.
This year, we've added a special fifth category, Pandemic Activation & Acceleration, to recognize the heroic efforts of our clients during COVID-19. Amid the unprecedented challenges brought on by the virus and the need for social distancing, Amwell clients have risen to the occasion — and then some. In their own way, in their own communities, each of the organizations included in this category has gone above and beyond in their response to the pandemic.
Clinical Impact
Cleveland Clinic
Cleveland Clinic continues to be a model of provider engagement. With more than 1,000 providers utilizing its Express Care Online platform in 2019 alone, Cleveland Clinic's commitment to integrating telehealth into the way it delivers care has served as an example for health systems across the country. During the COVID-19 pandemic, the health system saw an unprecedented surge in virtual care. At the height of the outbreak, virtual visits represented 65% to 75% of ambulatory care, up from just 2% pre-COVID-19. The health system also saw a 10-15x increase in on-demand virtual visits during the pandemic. To meet this surge in demand, Cleveland Clinic leveraged both its providers who were already active on the platform, and also trained more than 350 primary care providers — many of whom were temporarily redeployed due to the virus — on telehealth.  During weeks of peak volume, more than 2,500 Cleveland Clinic providers from primary care and specialty departments provided virtual visits to their patients.

Indiana University Health
Only three of the 17 hospitals in the IU Health system had access to 24/7 psychiatric care at the beginning of 2019. Patients presenting with psychiatric or substance use disorders often needed to be transferred. Similarly, peer recovery coaches were only available at two hospitals. By 2020, IU Health had launched on-demand virtual psychiatry assessments in the ED and a virtual peer recovery program, going live in 14 hospitals in less than 100 days. In the first six months of the program, the system performed more than 1,600 ED psychiatric assessments — resulting in 700 avoided transfers — and more than 700 peer recovery coach visits.
During COVID-19, IU Health launched a Virtual Screening Clinic one day after the first person tested positive in the state.  A comprehensive virtual plan was put in place to offer screening, testing, and monitoring, as well as a plan to help employees safely return to work. Following the initial explosive growth of virtual urgent care visits, IU quickly pivoted to focus on virtual scheduled visits as patient demand shifted. The health system had conducted more than 40,000 COVID-19 virtual screenings through May, adjusting and changing protocols frequently to align with new guidance from the CDC.

M Health Fairview
M Health Fairview (MHF) went live with a telestrokepilot program in 2018. After a successful launch, MHF identified the opportunity to integrate telestroke into the Epic EHR via Context-Aware Linking (CAL), which streamlined the workflow and enabled providers to practice telemedicine from within their standard EHR workflow. After the telestroke program became a standard of care, MHF partnered with Amwell to bring video spotlight capabilities to the clinical platform, allowing the provider to keep the patient as the prominent view even as multiple providers joined the consult. MHF's telestroke program has expanded to multiple spoke locations and continues to grow.
During COVID-19, Fairview is seeing more than 2,000 patients per day through its CAL integration within the Amwell Patient Portal (this implementation was coined Amwell 1.5). This implementation includes integration with M Health's patient portal and provider mobile application.  The health system performed both scheduled and on-demand visits, and added Amwell telemedicine hubs at two locations for patients needing mental health and addiction therapy. Planning is underway to expand this service to Catholic Charities, an MHF community partner that serves Downtown St. Paul.
Engagement Excellence
Blue Cross Blue Shield of Michigan
Blue Cross Blue Shield of Michigan (BCBSM) has partnered with Amwell since 2016, expanding to an enterprise platform, Blue Cross Online Visits, in 2018. Since launch, the health plan has seen nearly 17X growth in telehealth registrations and 16X growth in visits. In 2019, 52% of BCBSM virtual visits replaced emergency room and urgent care center visits, equating to promising cost savings. The health plan has developed and executed significant strategies and campaigns to boost adoption and use, including worksite engagement programs, paid search, social, SMS/text, and other targeted direct-to-member campaigns. During COVID-19, BCBSM offered virtual visits at no cost to all members and engaged employers to increase its telehealth-eligible member population to include approximately 300,000 new lives.

Gundersen Health System
With the arrival of COVID-19, Gundersen Health System needed to rapidly ramp up its telehealth platform. In just a few weeks, Gundersen nearly quintupled its typical pre-pandemic visit volume. As the health system continues to operate in the "new normal" of the pandemic, it is focused on expanding into new specialties and programs to build on its already impressive telehealth success. Gundersen is currently on pace to greatly exceed the first-year telehealth utilization benchmark for rural health systems, and is on track to meet the utilization levels typically seen with rural or urban hospitals after two years of telehealth deployment and engagement.

Nemours Children's Health System
Nemours Children's Health System, using the Amwell Mobile Software Development Kit (SDK), has developed a robust, parent-friendly mobile experience designed to put the best of Nemours pediatric care at their fingertips. The Nemours app provides useful features tailored to each patient and custom tools for chronic disease management, like the one-of-a-kind asthma tracker. Parents can also use the app to access their child's health records, view test results, have scheduled or on-demand video visits, and more. Nemours is committed to developing tools that help parents keep their kids healthy and make quality pediatric healthcare accessible to all families. Nemours has also partnered with Amwell's Engagement Services team to actively promote their telehealth program, Nemours CareConnect.

Verizon
A strong, ongoing partnership between Verizon, Anthem, and the health plan's telehealth offering, LiveHealth Online (LHO), has resulted in Verizon exceeding its telehealth registration goals two years in a row. The company had nearly 47,000 telehealth registrations by end of May 2020. An effective assisted enrollment campaign, employee-facing webinars, a strong LHO presence at "Be Well, Work Well" live and virtual events, and biannual registration email campaigns all contributed to this registration success. Verizon also authored an "About You" series chronicling the adventures and misadventures of two characters and how their use of LHO "saves the day." The company has also seen impressive growth in telehealth utilization, with behavioral health visits increasing 83% and breastfeeding support visits increasing 63%.
Verizon further demonstrated its commitment to engagement excellence during the COVID-19 crisis. As the virus began to spread across the United States, Verizon expanded the LiveHealth Online benefit to its associate (union) employees and pre-Medicare retirees. Compared to the same period in 2019, Verizon's LHO utilization for January to May 2020 increased by 107% for behavioral health visits, 72% for medical visits, and 21% for breastfeeding support visits.
Leadership Alignment
Blue Cross Blue Shield of Arizona
In early 2019, Blue Cross Blue Shield of Arizona (BCBSAZ) launched their enterprise telehealth program, BlueCare Anywhere, by initially offering virtual medical and behavioral health services to 250,000 members.  Since then, the health plan has seen 96% growth in its eligible members, almost doubling the number of members eligible for BlueCare Anywhere.  Not only has BCBSAZ demonstrated impressive growth, they have shown aligned leadership through their vision for a healthy Arizona. The health plan is committed to the inclusion of all its members, which it has demonstrated by offering telehealth to its Medicare Advantage members, launching a Medico (Spanish) practice, and developing a marketing strategy for digital worksite clinics. All these collective efforts are driven by the health plan's vision of making digital care available to not only its entire membership, but to Arizonans at large. Further demonstrating its leadership, during COVID-19 BCBSAZ offered telehealth for free and made it available to an additional 60,000 Medicare Advantage members and 20,000 ASO group employees, resulting in a 148% increase in telehealth enrollments and a 176 percent increase in visits.

Children's Health in Dallas
Leadership and key stakeholders of Children's Health in Dallas quickly and systematically came together in response to the COVID-19 pandemic. From January to March 18, 2020, the health system conducted approximately 1,000 virtual care visits. However, from March 19 to June 22, Children's Health did nearly 25,000 virtual visits. The health system saw a nearly 6X increase in on-demand visits, and a 16X increase in ambulatory (scheduled) virtual visits. During this time, the health system trained more than 1,200 providers, 900 nurses, and 260 clinical staff on virtual visits. Children's Health, which has a robust school-based telehealth program leveraging Amwell carepoints, had its partner schools loan hospitals these carepoints to quickly build needed COVID-19 divisions. Through thoughtful leadership, Children's Health expedited credentialing, created automated training, incorporated telehealth into patient discovery, and implemented virtual rounding for bedside telemedicine.

Penn State Health
Penn State Health enhanced its telehealth program in response to COVID-19, a feat that required leadership alignment at the highest levels of the organization. The commitment from leadership was not simply a response to the pandemic, but rather the latest iteration of a long-term strategy to make virtual care a priority across the organization moving forward.  Clinical, technical, operational, and executive leadership continue to work diligently to ensure the health system is well-positioned to meet the evolving needs of its internal and external stakeholders. This commitment has led to the introduction of several new telehealth initiatives and programs that compliment Penn State Health's mission of enhancing the quality of life through improved health, the professional preparation of those who will serve the health needs of others, and the discovery of knowledge that will benefit all. Penn State is a shining example of the change that can occur when leadership is aligned and committed to these values in the work they do every day.
Community Innovation and Activation
Centurion Health
Centurion Health works with a large state department of corrections to provide psychiatry services and specialty consults to its incarcerated population across 10 statewide prison complexes. These telehealth visits help supplement in-person visits and increase the availability of healthcare services to an underserved population. Since launching the program in July 2019, Centurion has conducted more than 15,000 virtual visits for in-state patients, with even higher utilization expected in 2020.

NewYork-Presbyterian
NewYork-Presbyterian (NYP), in partnership with Weill Cornell Medicine and ColumbiaDoctors, goes above and beyond to provide excellent care to all the communities and populations in its ecosystem. Through telehealth, NewYork-Presbyterian has been able to launch multiple teleconsults programs across its 10 hospitals and communities. During COVID-19 the system stood up eICU and tele-isolation (where patients in isolation can communicate remotely with their care team). NewYork-Presbyterian has expanded access to high-quality care by pushing the boundaries of how telehealth is used inside and outside hospital walls. As part of its COVID-19 response, NewYork-Presbyterian expanded access to urgent care by offering low cost virtual visits, and expanded access to therapy, follow-up care, and workforce safety through virtual scheduled visits. The health system leveraged C250 carts — mobile telehealth stands with cameras and displays that bring remote physicians to the patient — within its hospitals in isolation rooms and within the ED to reduce the use of personal protective equipment and create nurse-free care models. Through its combined efforts, NewYork-Presbyterian has conducted more than 50,000 virtual visits on Amwell technology this year, and has more than doubled the number of providers using the technology.
Anthem Inc.
While still in the early days of the pandemic, Anthem encouraged the use of LiveHealth Online, Anthem's telehealth platform, as a safe and effective way for members of its affiliated health plans to access care, and also waived member cost shares for virtual visits on LiveHealth Online as well as from Anthem's network providers. Working with Amwell, Anthem also doubled provider capacity to significantly reduce wait times. Anthem also accelerated the integration of LiveHealth Online within Sydney Care through the use of Amwell's Software Development Kit (SDK) and enabled an AI-driven symptom checker to include a COVID-19 assessment. Through this rapid and forward-thinking response, Anthem has surpassed more than a million lifetime virtual visits through LiveHealth Online while also covering more than 14 million virtual health visits between March and June 2020 within Anthem's own provider network.
Ascension
Ascension successfully enrolled and onboarded thousands of Ascension Medical Group partners in a short amount of time at the beginning of COVID-19. The team quickly created a virtual care training site for Ascension providers, and ran a daily provider support line. During the COVID-19 pandemic, Ascension providers conducted nearly 33,000 visits in a single month.

Augusta University Health
Augusta University Health's innovative telehealth strategy became a cornerstone of its response to COVID-19. At the onset of the pandemic, AU Health worked diligently to implement and deploy its virtual COVID-19 screening program. The health system also transitioned in-person care into virtual visits, rolling out telehealth at 35 ambulatory clinic sites and training 1,150 providers on its virtual platform. By the end of April, the health system had conducted more than 12,300 virtual care screenings. In addition, AU Health partnered with the Georgia Department of Public Health to schedule COVID-19 tests resulting from virtual screenings.

Baptist Health South Florida
At the onset of COVID-19 in March 2020, Baptist Health South Florida proactively prepared for the pandemic and offered free virtual urgent care visits to the community to ensure community access, limited exposure, and decompressed in-person visits to help flatten the initial curve. To meet the drastic increase in screening visits, Baptist Health ramped up the number of its own providers on the app, with over 415 trained in just two weeks. The health system also added an additional 11 practices to the telehealth app, which now offers patients services ranging from urgent and cancer care to cardiology and neurosurgery consults. Baptist Health implemented several enhancements to improve delivery of care, including leveraging internal pharmacists and redeployed staff to ensure local care was delivered with limited interruption. The added volume generated nearly a 10X increase in total visits from the early weeks of 2020 to the peak week of COVID-19 in April. As evidenced by the large amount of community support and positive feedback, Baptist Health Care On Demand made a significant impact on the community and continues to do so in this time of need.
BayCare Health System
In response to the COVID-19 pandemic, BayCare onboarded over 500 providers to their telehealth platform in a matter of days to help prepare for widespread closures of the brick-and-mortar practices throughout their network. In order to prepare for this, BayCare team members worked tirelessly to train and support providers and staff during this transition. Collectively, BayCare providers have offered over 50,000 virtual visits to patients over the past five months, spanning several specialties and clinical disciplines. In line with their mission to "improve the health of all we serve through community-owned services that set the standard for high-quality, compassionate care," BayCare continues to position their telehealth service BayCareAnywhere as an access point to patients seeking care during these challenging times.
Dignity Health
The Dignity Health telebehavioral health program is specifically designed to maintain access to assessments and evaluations in a potential COVID-19 environment. Through telemedicine, county mental health workers and hospital social workers were able to conduct behavioral health assessments from home without being physically located in hospitals. This allowed for timely evaluations while saving personal protective equipment (PPE) and reducing exposure. From January to May of 2020, Dignity Health conducted more than 3,740 telebehavioral consultations, and enabled hundreds of additional encounters for off site behavioral health personnel. The health system also extended its telehealth technology to departments and personnel that had otherwise not used the telehealth to help with a surge in COVID patients, thus exposing new healthcare professionals to the benefits of telehealth and promoting the future of the industry.

Hawai'i Medical Service Association (HMSA)
HMSA's response to the COVID-19 pandemic exemplifies what it means to make members the highest priority in healthcare. As soon as HMSA noticed that an increase in member demand for its virtual health platform, HMSA's Online Care, was leading to longer wait times, it immediately began training and onboarding more providers.
HMSA brought an additional 500 medical and behavioral health care providers to HMSA's Online Care. It also mobilized a local customer service team to provide better support to providers and patients. HMSA updated its website with information about telehealth and used email and other channels to educate members about their benefits. Through its response, HMSA saw a 271% increase in virtual visits from March to May and cut the average wait time for patients by more than half.

Houston Methodist
Based in Houston, Texas (one of the country's COVID-19 hotspots), Houston Methodist has leveraged its virtual program to meet the clinical needs in the Houston metropolitan area. These needs spanned the care continuum — urgent care, primary care, specialist consults, and care in the ER and ICU environments throughout all system hospitals. Using a mixed model of Houston Methodist and Amwell Medical Group providers, Houston Methodist has seen a steady increase in virtual urgent care visit volume, averaging over 2,300 visits in the last 2 weeks. Importantly, Houston Methodist has experienced a nearly 600% increase in visit growth compared to this time last year. Houston Methodist continues to invest and rapidly scale its virtual care capabilities to support the needs of its community during the pandemic.

Intermountain Healthcare
Very rapidly, Intermountain Healthcare responded to the COVID-19 crisis by shifting nearly all of the health system's visit volume to virtual care. The health system went from conducting roughly 1,000 virtual on-demand visits per week to nearly 20,000 virtual on-demand and scheduled visits per week. Intermountain also developed a robust strategy to care for potential COVID-19 patients, integrating virtual care into that strategy to triage for testing and conduct at-home monitoring.

MetroPlus Health Plan
MetroPlusHealth launched a new telehealth program to over 500,000 members in the middle of a pandemic while being located in New York City, the epicenter of the country's COVID-19 crisis.  On March 23rd, the health plan implemented its urgent care telehealth program, followed quickly by the implementation of its therapy and psychiatry programs on April 1st.  MetroPlusHealth launched these programs early to provide critical access to care for their New York City-based membership, which was greatly impacted by the pandemic. The health plan leveraged an innovative multichannel engagement campaign — which included email, direct mail, SMS text, and IVR calls — to quickly inform members of the new benefit and educate them on telehealth.

Midland Health
When COVID-19 began to spread, Midland Health quickly transitioned its telehealth program from solely urgent and primary care visits to all specialties. The health system rapidly converted typical in-person visits to virtual care to prevent the risk of virus exposure. It was important to Midland Health System that all its providers utilized its established telehealth solution instead of adopting non-HIPAA-compliant technology to conduct virtual visits — something that they believe will benefit their long-term telehealth provider engagement. During the pandemic, the health system went from conducting roughly 30 virtual visits per month to more than 2,000.

Naval Hospital Jacksonville
In March 2020, as COVID-19 began to impact the nation, virtual care became a critical part of Naval Hospital Jacksonville's response to the pandemic. The health system's long-standing efforts to encourage virtual care — through a program known as Navy Care — proved to be a valuable asset during COVID-19, leading to a dramatic increase in Navy Care use. In April, Naval Hospital Jacksonville enrolled more than 5,900 patients and conducted more than 3,000 telehealth encounters. In a single day in April, Naval Hospital Jacksonville performed 50% of the virtual visits completed in all of March. Patient enrollment in Navy Care has tripled during the pandemic, to 21,000. While COVID-19 accelerated patient adoption of Navy Care, it also impacted provider use, which increased by 104% between February and April 2020.

Norman Regional Health System
Norman Regional Health System needed to quickly activate telehealth to provide ongoing care to their patient base during the pandemic. In just 72 hours, Norman Regional onboarded nearly 200 providers and 20 practices to its virtual health platform, enabling a dramatic increase in scheduled virtual visits. In April 2020, Norman Regional saw a 4x month-over-month increase in the total visit count, 3x increase in scheduled visits, and more than doubled their daily average of on-demand virtual visits. Virtual health helped Norman Regional Health System adapt to new and uncertain conditions and ultimately continue operations during the pandemic.

Northwell Health
As New York's largest healthcare provider, Northwell Health found itself at the epicenter of the country's COVID-19 outbreak. In response, the organization incorporated virtual care into its large-scale pandemic response, integrating more than 65 departments into the scheduled visit workflow and increasing provider adoption by nearly 900%. The health system saw in incredible increase in telehealth visit volumes during the pandemic, going from roughly 150 virtual visits per month to more than 3,000 virtual visits per day.

Nuvance Health
As COVID-19 began to spread across the country, Nuvance Health in Connecticut and New York State recognized the need to quickly and thoughtfully scale up its scheduled virtual visit program to meet patient demand. In a matter of days, the health system grew its program from roughly 10 providers to more than 1,000 across the organization's newly merged HealthQuest and Western Connecticut Health Network system organizations. Year-to-date scheduled visits are nearly 90,000 and continue to grow at a significant pace.

Ochsner Health
Ochsner Health heavily integrated telehealth into their COVID-19 response. Ochsner quickly converted four urgent care clinics into completely virtual COVID-19 clinics. Utilizing their own provider network in Louisiana and the Gulf South states, Ochsner Health was able to train hundreds of providers on virtual visits so they could leverage Ochsner's telehealth app, Ochsner Anywhere Care, for patient care. Since March, Ochsner has completed over 150,000 virtual visits. The health system also developed a comprehensive Safe to Return service plan and resource toolkit that empowers employer groups to feel comfortable and confident about transitioning employees back to work and interacting with the community again. More than 70 local employers are already leveraging Ochsner's virtual employer clinics to create a safe and healthy workplace for both employees and customers. Ochsner's goal is to continue to support employer groups to help minimize the risk of exposure to COVID-19 and ensure everyone can work safely in the "new normal."

OU Medicine
Pre-COVID-19, OU Medicine, Oklahoma's most comprehensive academic health system, had a modest telehealth program in place that consisted of some primary care services, post-op visits, and a virtual pain management clinic. Since COVID-19, the health system's virtual strategy has seen unprecedented acceleration. OU Medicine has built out its internal telehealth team, onboarded more than 800 providers across all specialties, and conducted more than 25,000 virtual visits since March. Rather than wait for a perfect implementation, OU decided to deploy quickly and iterate — a decision that was key to its success.

Southwest Medical Associates and Health Plan of Nevada
The strong partnership between Health Plan of Nevada (HPN) and Southwest Medical Associates (SMA) and their long-time commitment to telehealth and telehealth expansion set the stage for 50,000 virtual visits to be completed so far in 2020, surpassing the total volume for all of last year. While HPN waived member co-pays and cost shares and initiated significant outreach to drive patients to this innovative platform, SMA enrolled more than 600 providers in a variety of specialties, including primary care, pediatrics, OB-GYN, and rheumatology. SMA leveraged both on-demand and scheduled virtual visits to better care for its patients in Nevada and Utah and supported more than six partner Optum organizations in quickly launching a telehealth program.

Trinity Health
In response to the COVID-19 pandemic, Trinity Health rapidly scaled up provider usage of its telehealth platform, onboarding more than 2,000 providers in a short period of time. These providers leveraged Trinity Health's direct-to-patient context-aware linking integration to conduct scheduled virtual visits with patients within Trinity's Epic EHR platform in its Michigan Regional Health Ministry locations. Further expansion of Trinity's virtual scheduled visit capability within Epic is planned throughout other Regional Health Ministries later this year and throughout 2021.

UAB Medicine
UAB Medicine leveraged its established, unified telehealth platform that spans both ambulatory and inpatient settings to better care for patients during the pandemic. The single sign-on capability allowed the health system to deploy telehealth broadly and rapidly across its provider base, enabling them to train 2,200 providers on telehealth in a very short period. UAB Medicine leveraged Amwell's Hospital platform to conduct scheduled visits with patients on the ambulatory side, which remains 41% of their total ambulatory volume. Furthermore, UAB delivers inpatient care by using telemedicine carts in emergency departments and inpatient wards for critical care, stroke, infectious diseases, nephrology, and general neurology. Telehealth has allowed UAB to better protect patients and providers, conserve personal protective equipment, and involve remote family in palliative care even as patients remained isolated.

UNC Health
In response to the COVID-19 pandemic, UNC Health quickly expanded it telehealth services by leveraging virtual care for a myriad of ambulatory use cases, including family medicine, occupational therapy, social work, and gastroenterology. The UNC Health telehealth team made this rapid growth possible by training and operationalizing scheduled visit workflows with Epic + Amwell context-aware linking. In a matter of days, the health system went from 200 providers using telehealth to 2,200 providers. This quick expansion translated into a 27,740% growth of virtual visits volumes in 2020.

Wellstar Health System
Wellstar leveraged its existing telehealth technology used for inpatient care and expanded it across the enterprise, broadening inpatient virtual care programs and creating new virtual ambulatory care programs. In just four weeks — a rollout schedule nearly a full year faster than originally planned — the majority of Wellstar's providers were leveraging telehealth, and within six weeks they had executed 50K visits. The expansion included deploying tablets in each of the health system's intensive care units (ICUs) and COVID/PUI Units to allow physicians to have virtual face-to-face conversations with patients and their families, and accelerating the use of an on-demand telehealth program, WellstarON. Along with the rapid technology deployment, Wellstar developed a multimedia educational program for all providers and a streamlined billing system to encourage adoption.